Huracan LED Steering Wheel
The perfect wheel for anyone in search of a sporty looking wheel without having losing all of your steering wheel controls! Our wheel is a direct replacement for any Infinti model listed below and sending in your old core is NOT required.
Enjoy quality, comfort & luxury by upgrading today!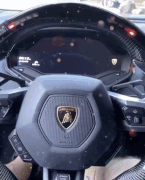 -If carbon fiber steering wheel comes with OEM multifunction buttons, they are included as complementary.
*Buttons condition are variant, please transfer the OEM multifunction buttons from your steering wheel to complete the installation if needed.
- Heated steering wheel function will be disabled on all of our carbon fiber steering wheel. But you won't have error code on the dash.
Checkout our instagram for pictures and videos on all our products!